Posts tagged 'Health'
Gallery

Click below for a clear, printable copy:
PF FundraiserPUBLIC(1)
Gallery
There are two links in this post I urge you to contribute to, one being the fund for the recovery of the Garden District robbery and rape victim, the other for the Metropolitan Center for Women and Children. Read on to see why.
More and more, I'm finding it cannot be avoided, no matter how hard women try. We are still surrounded by people who would put us in what they think is "our place," a position that tends to be highly restrictive on any and all physical and mental levels.
Tell me I'm crazy. Go on and talk down to me, I dare you.
…the out-and-out confrontational confidence of the totally ignorant is, in my experience, gendered. Men explain things to me, and other women, whether or not they know what they're talking about. Some men.

Every woman knows what I'm talking about. It's the presumption that makes it hard, at times, for any woman in any field; that keeps women from speaking up and from being heard when they dare; that crushes young women into silence by indicating, the way harassment on the street does, that this is not their world. It trains us in self-doubt and self-limitation just as it exercises men's unsupported overconfidence.

I wouldn't be surprised if part of the trajectory of American politics since 2001 was shaped by, say, the inability to hear Coleen Rowley, the FBI woman who issued those early warnings about al-Qaeda, and it was certainly shaped by a Bush administration to which you couldn't tell anything, including that Iraq had no links to al-Qaeda and no WMDs, or that the war was not going to be a "cakewalk." (Even male experts couldn't penetrate the fortress of their smugness.)…

…Credibility is a basic survival tool. When I was very young and just beginning to get what feminism was about and why it was necessary, I had a boyfriend whose uncle was a nuclear physicist. One Christmas, he was telling–as though it were a light and amusing subject–how a neighbor's wife in his suburban bomb-making community had come running out of her house naked in the middle of the night screaming that her husband was trying to kill her. How, I asked, did you know that he wasn't trying to kill her? He explained, patiently, that they were respectable middle-class people. Therefore, her-husband-trying-to-kill-her was simply not a credible explanation for her fleeing the house yelling that her husband was trying to kill her. That she was crazy, on the other hand….

Even getting a restraining order–a fairly new legal tool–requires acquiring the credibility to convince the courts that some guy is a menace and then getting the cops to enforce it. Restraining orders often don't work anyway. Violence is one way to silence people, to deny their voice and their credibility, to assert your right to control over their right to exist. About three women a day are murdered by spouses or ex-spouses in this country. It's one of the main causes of death in pregnant women in the U.S. At the heart of the struggle of feminism to give rape, date rape, marital rape, domestic violence, and workplace sexual harassment legal standing as crimes has been the necessity of making women credible and audible.
Events and discussions will occasionally converge that lead me to a boiling point on this subject…
Why it's disgusting and ignorant of you to imply that a woman caught large Mardi Gras beads in a risque manner, for instance. Yeah, it's one of the oldest, sexist, dumbest Carnival tropes, but it does get tiring after a while. I caught huge, LSU-emblazoned beads just from being at the start of the Thoth parade route. Next Carnival season, I'm gonna ask the next guy I see with giant beads on what he flashed for them.
A list of the 10 cities where women earn the highest salaries is always nifty, but women are still earning less than men.
The horrific news about the murder of paraplegic Olympic sprinter Oscar Pistorius' girlfriend, Reeva Steenkamp, who was an advocate for victims of sexual abuse.
Controversy over the Eve Ensler-organized One Billion Rising Campaign, which I only just heard about today, but I also wonder about its premise…as do many other women around the world.:
I recently listened to a Congolese woman talk in a speak-easy setting of radical grassroots feminists. She was radiantly and beautifully powerful in her unfiltered anger towards the One Billion Rising movement, as she used the words "insulting" and "neo-colonial". She used the analogy of past crimes against humanity, asking us if we could imagine people turning up at the scenes of atrocities and taking pictures or filming for the purposes of "telling their story to the rest of the world". Take it one step further and try to imagine a white, middle class, educated, American women turning up on the scene to tell survivors to 'rise' above the violence they have seen and experienced by…wait for it…dancing. "Imagine someone doing that to holocaust survivors", she said.
I had occasion to speak with someone about the recent kidnapping, robbery, beating, and rape of a young woman in the Garden District, and large chunks of the conversation revolved around the same tropes that come up whenever something like this happens to any woman. It all came around to our living in a world where women are taught "not to be raped," and the suspicion that comes up is generally directed first against the woman who is the victim rather than the perpetrators. When a victim's first move is to tell her would-be comforters and shelterers "Don't touch me. I'm evidence," then we know who the burden of proof is on.
This hasn't ended with the capture of the criminals and their upcoming trial. Though a large amount of funds has been raised thus far for the victim's rehabilitation, she will need far more than that – keep contributing here. This friend of a friend of mine will be grateful.
I ask you to also consider that state budget cuts will likely destabilize what structures there are to assist women who have been victims of domestic violence as well – among them New Orleans' own Metropolitan Center for Women and Children. They accept donations of time or money here.
Know of any other needy organizations in the city or state that help female victims of abuse, rape, or violence? Please contribute names and links in the comments. It'll be the best Valentine's Day gift you give. Honest.
Gallery
Last night I was at dinner in someone's home and the following is the abridged version of a portion of dinner conversation. I say abridged because I was so mad that one, the guest had the audacity to discuss politics in a room of people this person had never met, save one, and two I didn't want to go ballistic and embarrass the host so I left.
Guest: I was at the VA hospital today for (some random event) and was able to see the blueprint of the new hospital.
Me: Oh really, tell me about it…
Guest: Well on Banks street, the old oak trees were saved, and some of the buildings will be built around the oaks, so there will be a corridor down the middle – a shaded promenade with benches and such.
Me: That sounds nice!
Guest: While I was there today, some of the (nameless) dignitaries were discussing how the Charity Hospitals were being dismantled and they were looking at private corporations to take over the care of the patients.
Me: Oh really? Well after Katrina, when Charity hospital was closed down, all the patients had to go somewhere so they were seen at Ochsner, East Jefferson – it didn't work well and those hospitals lost a lot of money…
Guest: Yeah, one of the doctors at (nameless hospital) was telling me how after the storm, a gun shot wound patient broke into some pharmacy storage area to take medicine, so that didn't work out too well with "those" (emphasis guest) patients at the private hospitals. So its going to be difficult for "those" (emphasis guest) patients to find somewhere to go.
Me: I honestly don't see how the state could possibly shut down the Charity Hospitals? What are they going to do with the new hospital? Sell it?
Guest: Well there will be no more Charity system, they are doing everything right now to close all the hospitals. It won't be an issue especially if Obamacare is defeated in November when Romney wins.
Me: Its called the Patient Protection and Affordable Care Act. Plus there is no guarantee Romney will win.
Guest: Well if Obama is re-elected, there are ways to defeat the health care bill.
Me: Oh Really? You know, we really shouldn't be going there (having political discussion with strangers) at dinner…
Guest: Well how do you think Obamacare is going to be funded? The federal government will need to put up $50 billion dollars they don't have to pay for it…
At this point I excused myself and helped clear the table and began washing dishes. The guest continued carrying on political discussion with the others remaining at the table which I could hear from the kitchen. I did as much as I could to assist the host –  but very soon after when another guest excused themselves it was my cue to leave too.
I find it extraordinarily disturbing that there is a subversive political process going on which is hell bent on obliterating health care for the poor and uninsured in Louisiana. There has already been a loss of thousands of state jobs, and this current round will result in 1500 more people out of work. How does this contribute to the tax base, the spend and growth economy, putting people out of work, regardless of the fact that these are hard working and dedicated state employees?  Where are all the students of health care, physicians, nurses, allied health, going to go for training? Not to mention all of the sick, sick patients and not just the victims of and perpetrators of violent trauma: there is no plan in the foreseeable future for the state to pony up through Bayou Health or any other fee schedule to reimburse the private hospitals that will wind up caring for the uninsured poor. And once these private hospitals begin to see red, what will happen to the patients? Will they just start dying in the streets? Where is the social justice in that?
There is a call to action out there, let your voice be heard. Representative Jerome Richard from Thibodaux has called to convene a special session to address the recent bulldozing of healthcare, among other things. Contact your state legislators and senators, and demand they go to special session in November to reverse the evisceration of health care in this state. You the citizens elected the legislators and they answer to you, compel them to do their job and do what's right by their constituents and not the special interests.
*****UPDATE***** This link will take you to an online petition through Change dot org requesting the legislature to convene a special session to find out what in God's name is going on with the railroading of health care in Louisiana – please consider signing it – thanks
I wrote a bit about The Healing Center in a previous post. It sounds like a great concept but will reality match the vision? I've heard rumblings that some residents in the 'hood aren't too happy with some aspects of the center such as the apparent confusion as to the hours that Cafe Istanbul will keep and when liquor will be served. For a little inside info, read the comments on my previous post which includes a report  by Lord David of a recent neighborhood meeting in the center.
The following post was originally published April 12 on local blog American Zombie.
Last Saturday I spent the day at Dr. Michael Robichaux's farm in Raceland talking with well over 60 offshore workers, fisherman, and family members who are experiencing extreme health effects from the BP oil spill.  Many of the workers who came into direct contact with the oil and the dispersant, Corexit, are experiencing similar health problems ranging from mild sypmptoms to life threatening conditions.  It's not only the men who were out on the Gulf during the spill that are sick, family members are experiencing health problems as well.  Even people who swam in the ocean are stricken.
While I can't confirm this number, I am told by folks monitoring the issues that they estimate thousands, if not tens of thousands, of people along the Gulf Coast from Louisiana to Florida are suffering.   Some are experiencing mild symptoms such as asthma, nausea, and headaches, while others are suffering extreme health issues such as internal bleeding, paralysis and even death….yes death.
The following video is a testimonial from Louisiana charter boat captain, Louis Bayhi.  It's 6 minutes long and I implore you to watch the entire thing:
Capt. Louis Bayhi – Charter boat captain and BP clean up worker experiencing severe health problems from Blackbird Media on Vimeo.
Louis was one of over 40 fisherman I spoke with on Saturday who is gravely ill.  All of these fisherman confirmed to me that the Gulf is still full of oil and dispersant is continually being deployed….including areas which have been deemed safe for seafood harvesting.
There are more testimonials coming….please help spread this message…please help spread the truth.  The nightmare BP left us with is not over, in fact it may just be starting.  The MSM is not going to report what's happening, but I implore you to dig deeper and don't trust what you are being spoon-fed.
I fully expect to get attacked on the seafood issue but my response is fire away…I just spoke with over 40 guys who are out there every day and their concerns have now become mine.  I will take their word over anyone.
Check out the LEAN – Louisiana Environmental Action Network website for more information.
Why this is personal; I stand with Planned Parenthood!
Congressional leaders and President Obama headed off a shutdown of the government with less than two hours to spare Friday night under a tentative budget deal that would cut $38 billion from federal spending this year. I am grateful that they figured out a way to avert government shutdown and not hurt Planned Parenthood in the process. But I AM REALISTIC; this battle is not over; this was simply the first skirmish in the war on women's health.  So I ask you to please support Planned Parenthood and women's health issues; it has never been so needed especially in a time where there is an all out assault on women's health.  Please read the post that follows; it was written yesterday and it is my personal story on why this matters!
====================================
Friday April 8, 2011; Today I received emails from Planned Parenthood that actually make me sick; due to the stupid GOP who have decided that Planned Parenthood is a bad thing, so they plan to shut down the government and hold the Democrats and all women hostage in order to prove their point because they have decided that Planned Parenthood is ONLY about abortion.  The truth could not be farther from this!
I will cite articles, but what I want to do is to relate my own experience with abortion and a woman's right to choose.  The beautiful girl that you see below in the photo is my sister Brenda; I lost her when she was twenty seven years old and the world lost a great crusader for the underdog.  It is because I was lucky enough to have her in my life, that I have the strength to speak out against what the GOP is doing; it is fundamentally wrong and it has to be overturned.  Here is her story (and mine.)
When Brenda was 25, she found out that she was pregnant.  It should have been a moment that most women who are in love and engaged to be married would cherish; the chance to have a child with the man that they love. Instead it was a time of terror for Brenda; you see, Brenda had severe epilepsy, and she could not be taken off of the medicines that kept her safe, in order to carry a child to term, and the medicines that already caused her significant side effects would have caused severe side effects to a child.  If she was taken off the anti-convulsive medicines, it was highly probable that she would have died from a seizure.
Additionally, she had a hard time taking birth control, since the pill caused her to have seizures. So after much heartache, pain, and discussion with her fiance to make her decision, she chose to have an abortion, and asked me to accompany her to Planned Parenthood in Santa Clara, California.  The year was 1982, and thank goodness, we had good facilities at that time that performed safe abortions. This had NOT always been the case as I was growing up, and indeed many deaths were attributed to back street abortion clinics.  When they called her back for the procedure, they had her talk to several counselors before taking her back to the room.  She explained over and over why she had no choice and I could see she was getting more and more upset; why couldn't they just understand was written across her face.  Finally they began the procedure; it seemed an interminably long time, though in reality, it probably was over in less than a half hour.  BUT not before, my beloved sister suffered a Grand Mal seizure;  I stayed with her, never leaving her side and I tried to protect her from the seizure, and to simply be there for her.  She was terrified, as she always was when she had a seizure, and once the procedure was finally over, I took her home and put her to bed where she slept for 14 hours straight. She often felt guilt about that act, but I know in my heart that she would not have survived pregnancy, and that she had made the right decision.  If the GOP gets their way, the Brenda's of the world, will have no where to turn.  Please do not let this happen!
To finish my story, about two summers later, Brenda married her sweetheart in June of 1984.  They began their married life together, but it was to be short-lived. On October 4, 1984, my sister had a Grand Mal seizure while driving and was killed instantly when her car ran into the piling for an overpass on Highway 101 in Santa Clara, CA.
The one thing that I know about my sister Brenda, is that she would not mind me telling you this story; indeed knowing Brenda, she would be on the picket lines in DC marching with Planned Parenthood.  Please do not force women to go back to a terrible time where contraception, family planning, and abortions are difficult to obtain.  Please stand with Brenda and me; we support and stand with Planned Parenthood and we believe in the rights of all women to get the medical help they need, no matter their financial situation.
————————————-
Links;
Today's (4/9/11)  New York Times; http://www.nytimes.com/2011/04/09/us/politics/09fiscal.html?_r=1&hp
From the Washington Post: http://www.washingtonpost.com/blogs/ezra-klein/post/what-planned-parenthood-a… "Though the fight over Planned Parenthood might be about abortion, Planned Parenthood itself isn't about abortion. It's primarily about contraception and reproductive health. And if Planned Parenthood loses funding, what will mainly happen is that cancer screenings and contraception and STD testing will become less available to poorer people. Folks with more money, of course, have many other ways to receive all these services, and tend to get them elsewhere already. The fight also isn't about cutting spending. The services Planned Parenthood provides save the federal government a lot of money. It's somewhat cold to put it in these terms, but taxpayers end up bearing a lot of the expense for unintended pregnancies among people without the means to care for their children. The same goes for preventable cancers and sexually transmitted diseases such as HIV/AIDS."
From Planned Parenthood; I stand with Planned Parenthood; https://secure.ppaction.org/site/SPageServer?pagename=pp_ppol_urgent
From US Dept of Health and Human Services; http://www.hhs.gov/opa/familyplanning/index.html
From the New York Times; http://www.nytimes.com/2011/04/09/us/politics/09fiscal.html?_r=1&hp
Shutdown Near, No Sign of Compromise; After the nightlong negotiations that ended before dawn on Friday yielded no agreement, Senator Harry Reid, the Nevada Democrat and majority leader, went on the offensive. He told reporters and said on the Senate floor that Mr. Boehner, the Senate Democrats and President Obama had essentially settled on $38 billion in cuts from current spending. But he said that Republicans were refusing to abandon a policy provision that would withhold federal financing for family planning and other health services for poor women from Planned Parenthood and other providers."This is indefensible, and everyone should be outraged," Mr. Reid said on the Senate floor. "The Republican House leadership have only a couple of hours to look in the mirror, snap out of it and realize how truly shameful they have been."
______________________________
Laura Bergerol is a professional photographer in New Orleans and blogs on Posterous and at Time Captured.net. Laura also was a major contributor to our Katrina Photo Project for the fifth anniversary of Hurricane Katrina. This essay was cross-posted from her personal blog.
The weather has been unbearably beautiful for the past week. For once I'm happy that my office area doesn't have any windows to take my mind away from the work at hand. By the time the weekend rolled around my husband and I decided that we would spend the day outside, no matter the venue.
I did some internet searching on Friday night, looking for trails and parks we hadn't visited. I found a few places, but they didn't seem to pique my interest, but I jotted them down anyway. During breakfast on Saturday morning Billy (my husband) mentioned biking on the Tammany Trace. My ears perked up. We hadn't been on the Trace for almost two years, since Billy had rotator cuff surgery. Our bikes were woefully weathered, having sat on the front porch all that time, so off we went to Wally World to buy 2 new bikes and bike seats.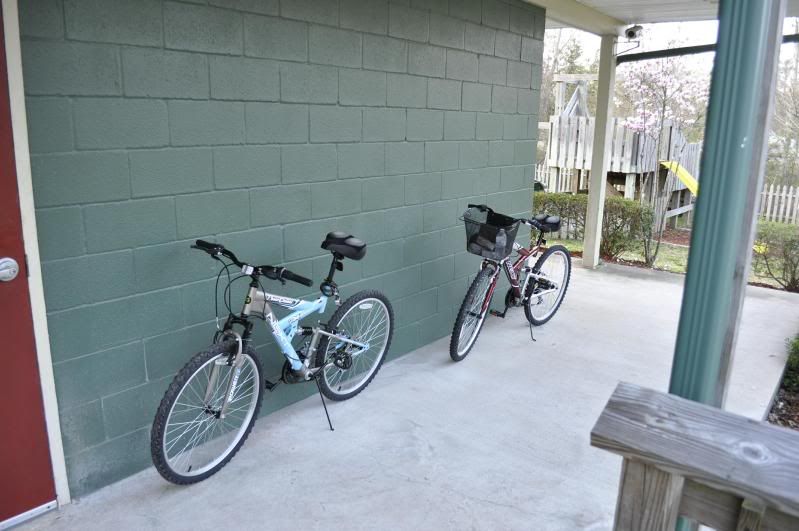 The type of bikes we chose weren't that expensive, really. And they're adequate for the terrain of Southeastern Louisiana. And if you're biking more than a mile, good bike seats are imperative.
We're lucky in the fact that we live about a mile from the Slidell Trailhead section of the Tammany Trace.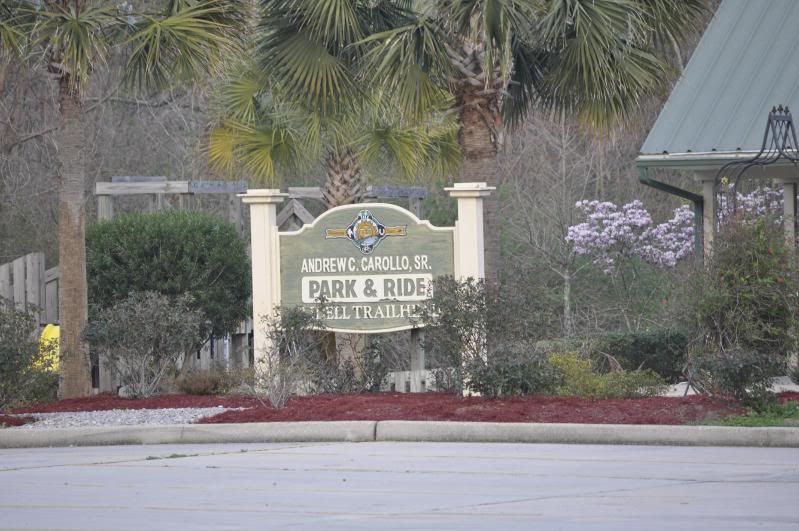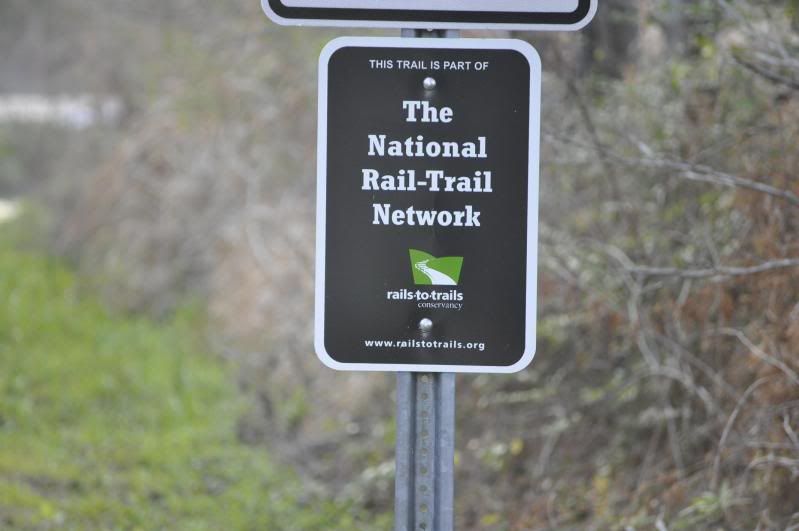 The Trailhead is very well equipped, with bathrooms, drink machines, maps, picnic tables, a butterfly garden and a small playground.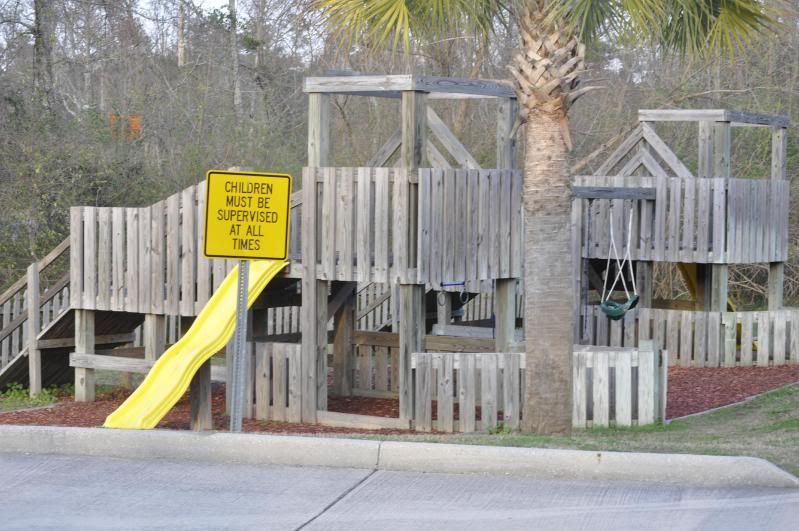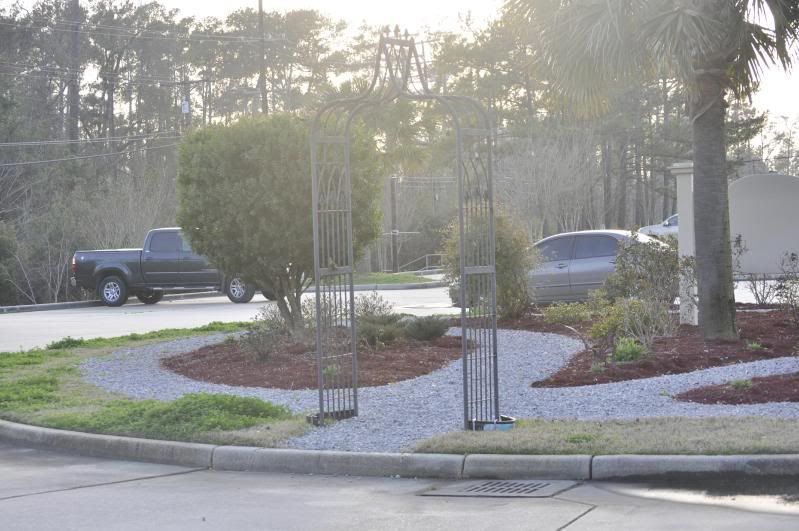 But we weren't there for those amenities, we wanted to RIDE!! So off we went, biking to the west.
If you ever want to get away and clear your mind and just enjoy peace and quiet, I recommend biking any part of the Tammany Trace. With a few exceptions, the only sounds you hear are the wind, birds and the rustling of other small creatures as you pass them by. And the air smells so sweet! Yesterday's aroma was that of pine.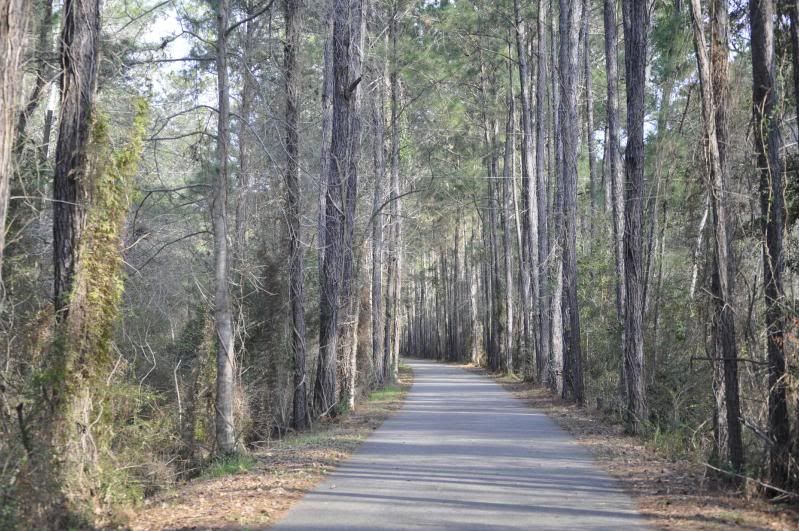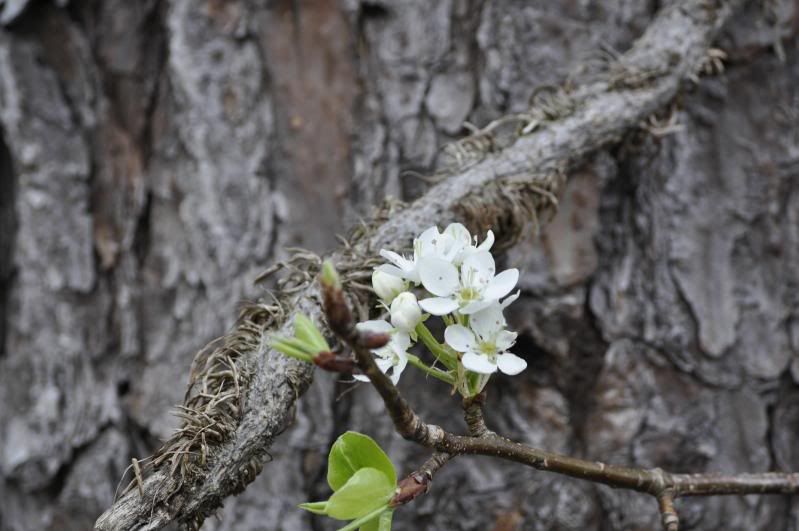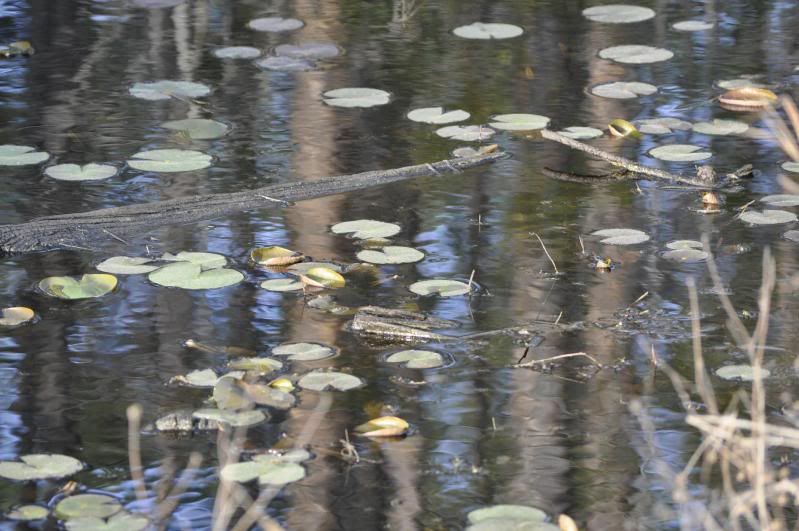 Having travelled the trace for many years before Billy's surgery, I struggled with trying to find creative ways to carry the necessities: water, lip gloss, snacks, etc. So when we bought the bikes, I picked up a really nice basket to carry these types of things. To my surprise, this basket is big enough to carry those items PLUS my Nikon with the zoom lens!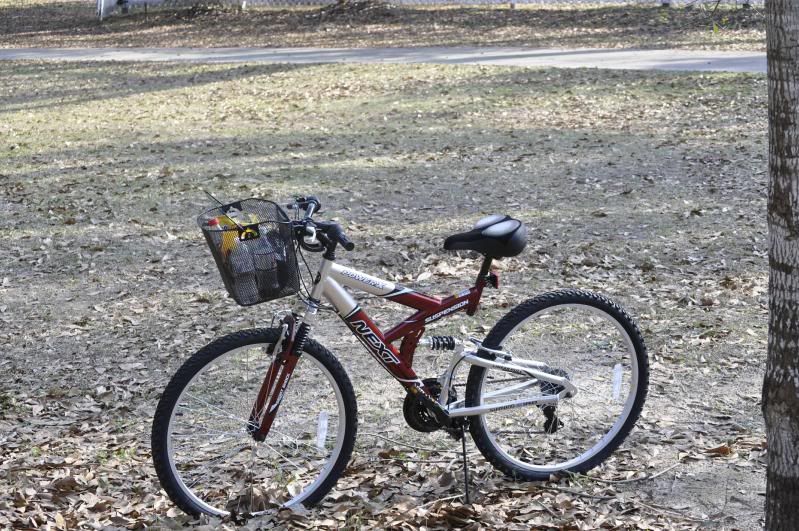 From the Slidell Trailhead to Bayou Lacombe is a 6 mile ride. Up to last year, the Trace ended here. But a new bridge was built to allow riders to cross the Bayou as well as take in the beauty of this waterway.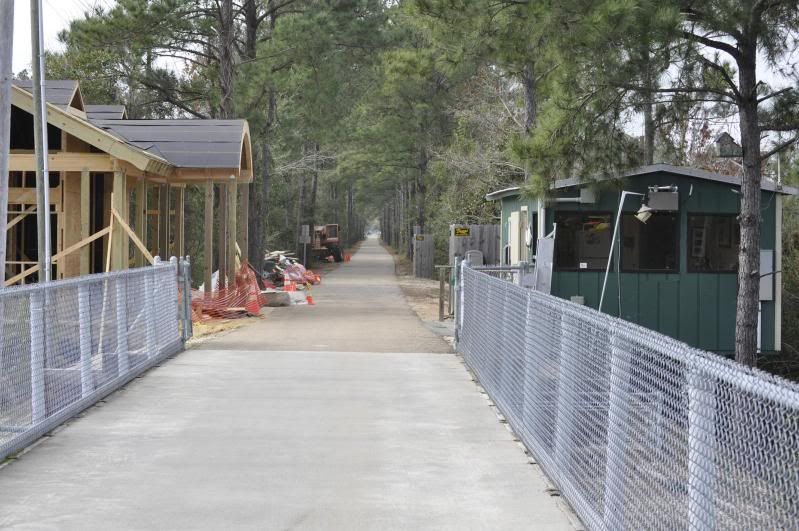 The building on the left will soon hold bathrooms and probably drink machines, as well as trace literature. The building on the right is for the bridge tender. We stopped and spoke with two different tenders on our round trip and these were very interesting individuals. If you can imagine just sitting around waiting for tall sailboats to come by so you can open the bridge, you can understand that these guys find innovative ways to spend their shifts. One of them – a sweet cajun man with a slight accent – showed us just where to drop pieces of bread in the bayou to cause a feeding frenzy among the fish. Yeah, their shifts are quite boring. But I digress.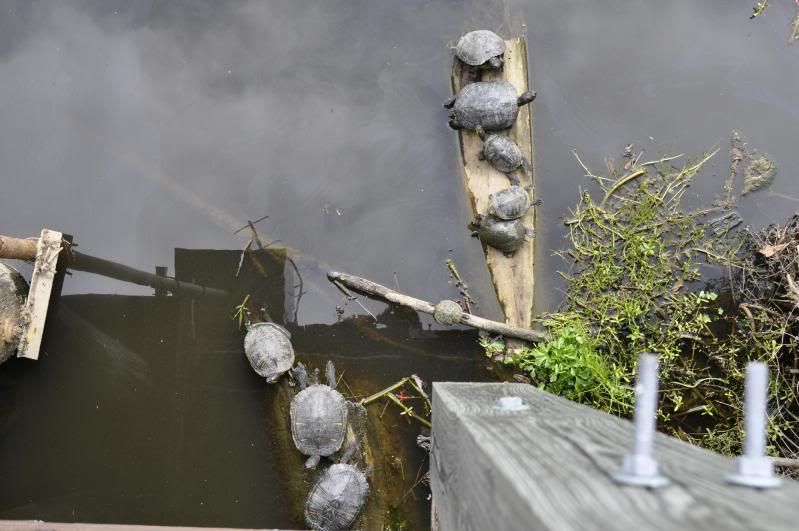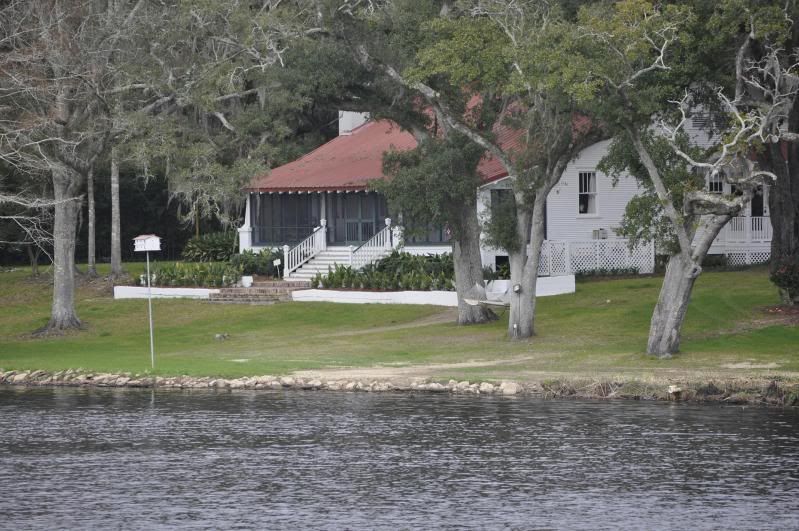 This home sits on the banks of Bayou Lacombe. I want it.
After the Lacombe trailhead the path takes you into the past. This area is loaded with ancient live oaks, which are breath-taking.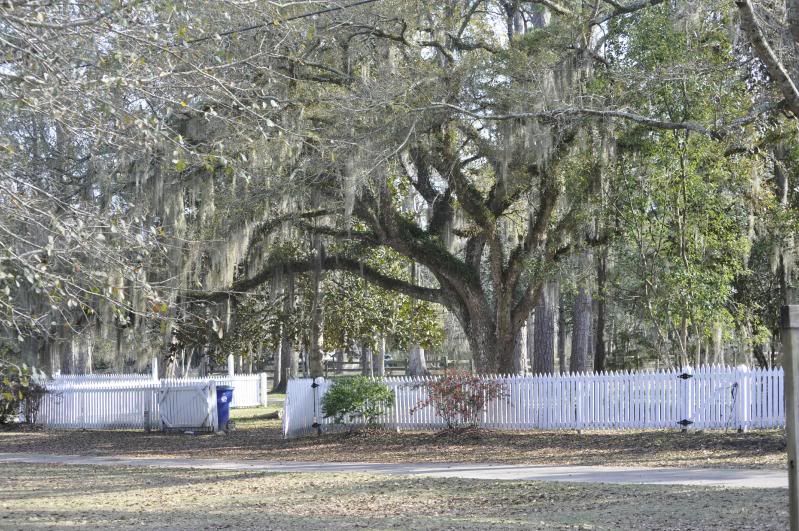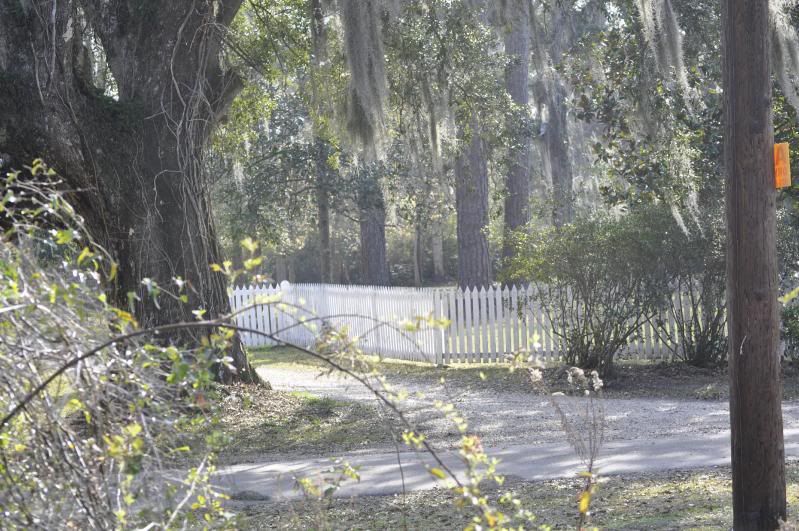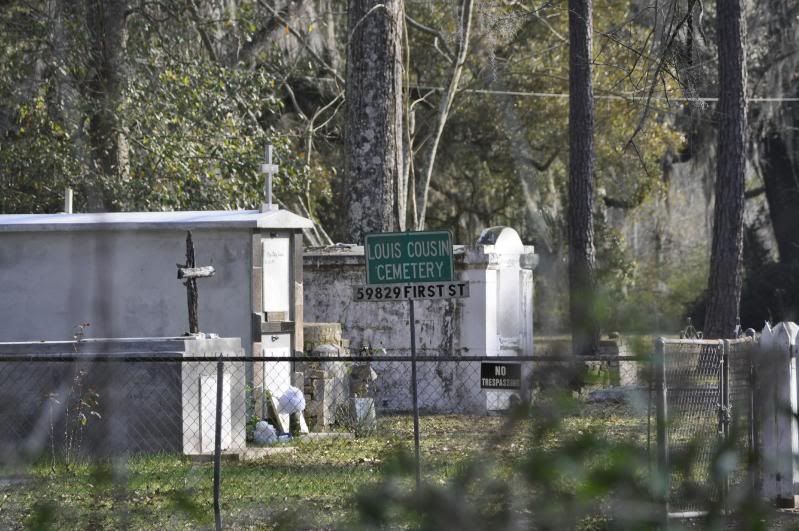 The Louis Cousin cemetery is private, but I sure would like to look at some of those graves, they look very old.
The Tammany Trace is built on what used to be the train tracks. You can still spot sights like these if you look to either side of the pavement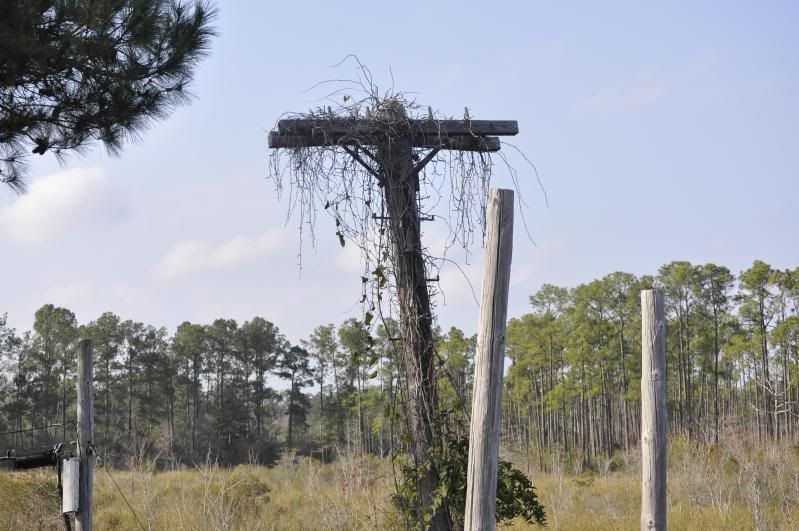 I don't think I'd like climbing up that pole when it was new!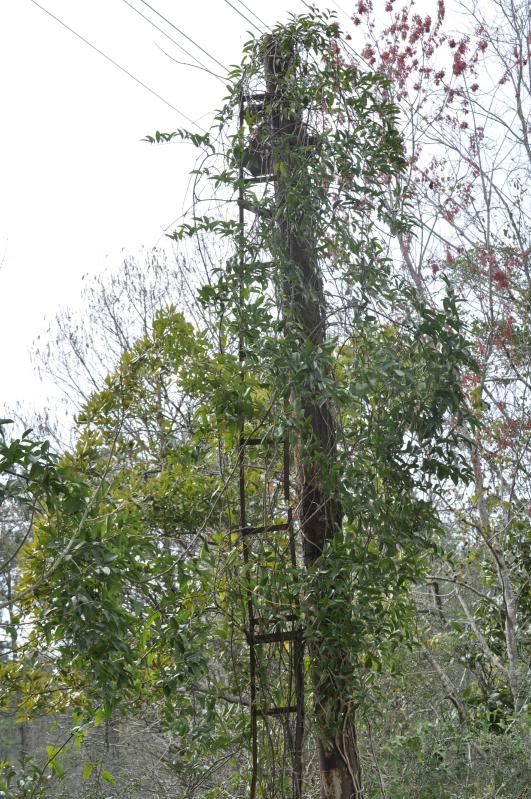 The train worker would have to climb up that ladder to change the signal light at the top of the pole.
After passing the banks of Bayou Lacombe the Trace comes to the City of Lacombe., a small community of less than ten thousand people. But it is a city with history, as this sign attests: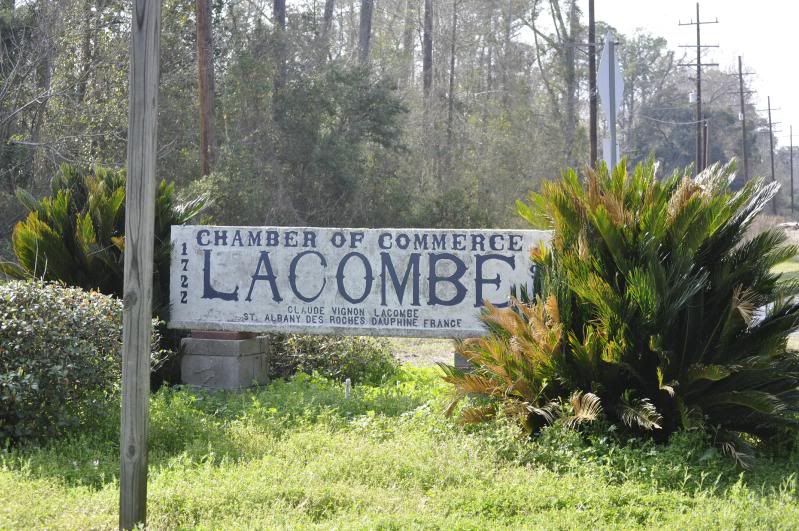 By the time we got to Lacombe we were very hungry, having had breakfast some 7 hours ago. My hairdresser told me about a great Mexican Restaurant in Lacombe called Pepe's, so we rode off to find it and we did! But it didn't open till 4 p.m.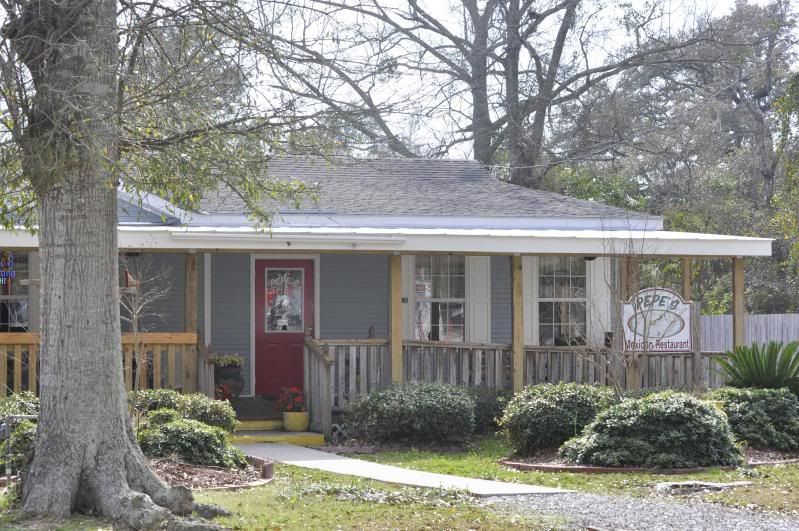 The only alternative was to go to the grocery store on Highway 190, Lacombe's "Main Street". We parked our bikes and I went inside for cokes and snacks. While we ate, we spied this cute driver of a mini Cooper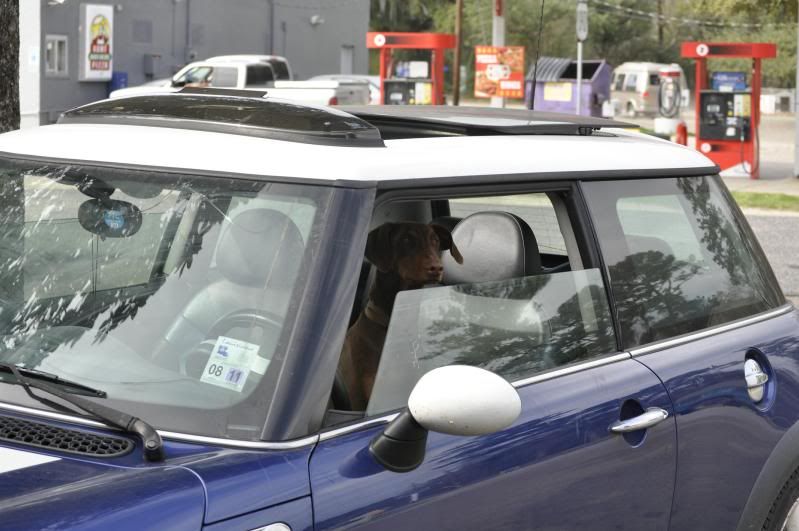 We'd gone 10.5 miles and decided not to go on to the Fountainbleau State Park but decided to head back, as it was getting late in the afternoon and we wanted to make sure the bridge would not be closed.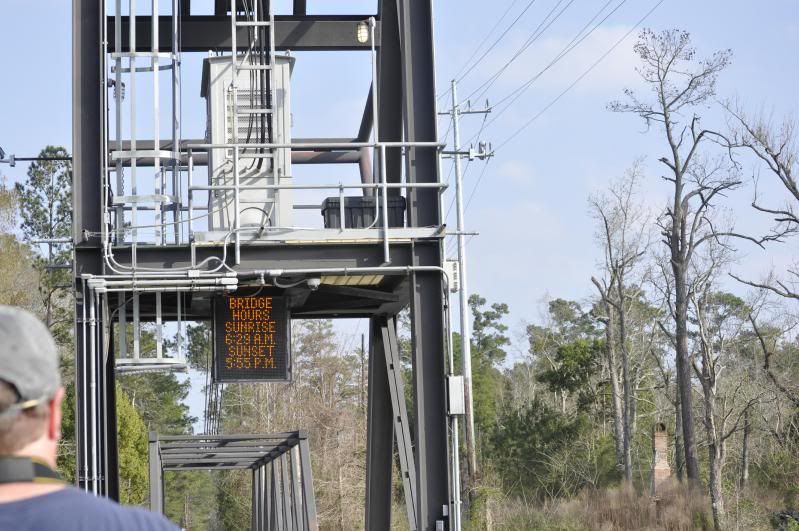 The ride back was as pleasant as the ride to Lacombe. We had a slight breeze in our faces (which helped because humidity was a little high) and the sun was at a beautiful angle, enabling us to catch pictures like these: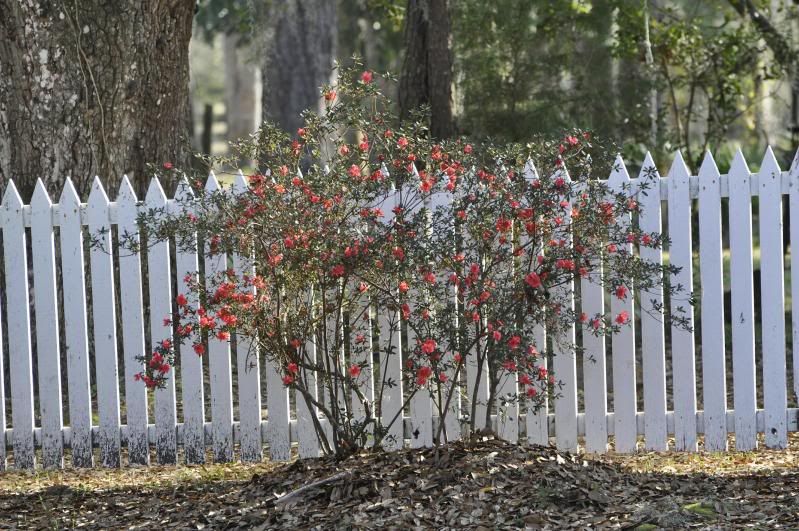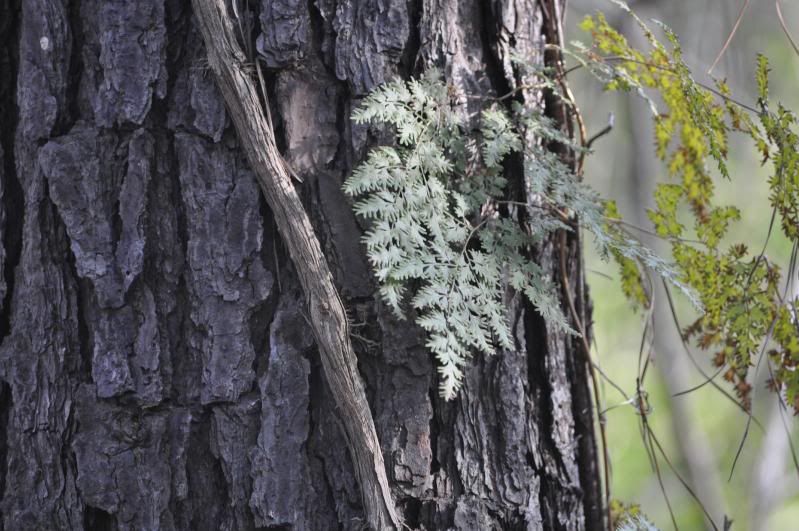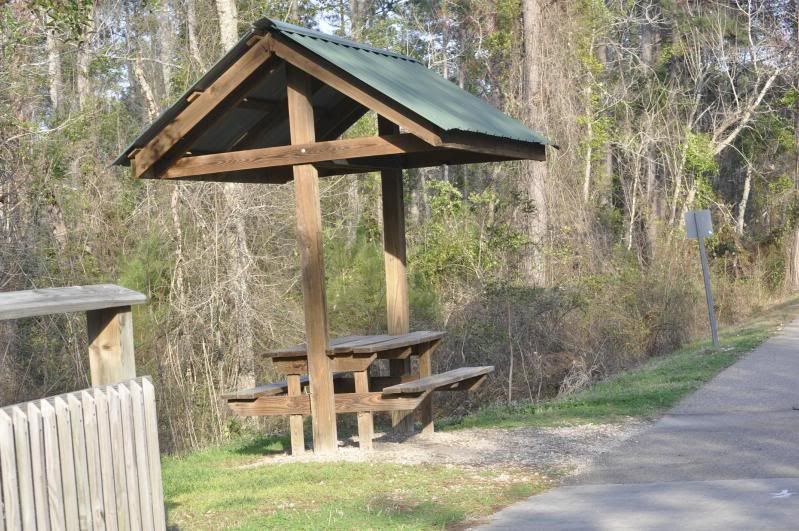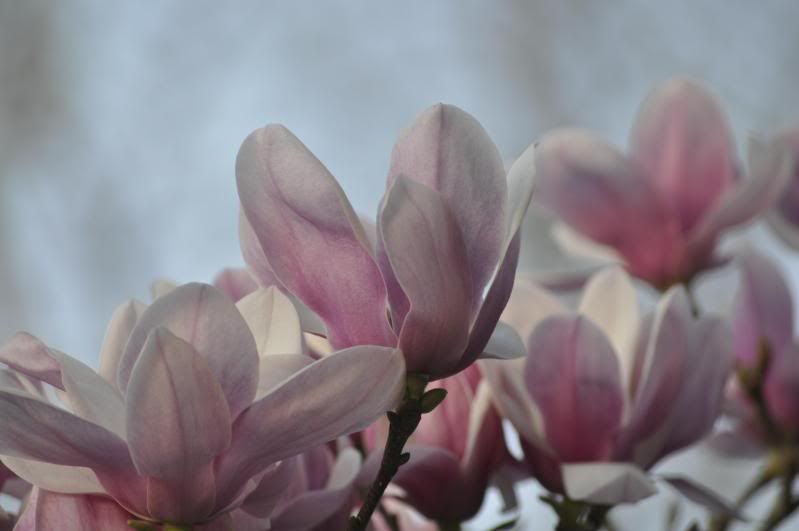 So if you ever want to escape the everyday hassles, the traffic, the gas prices,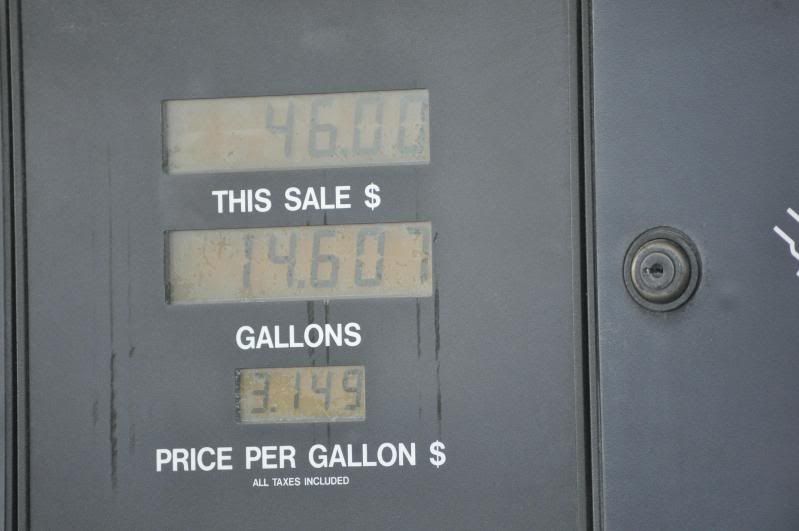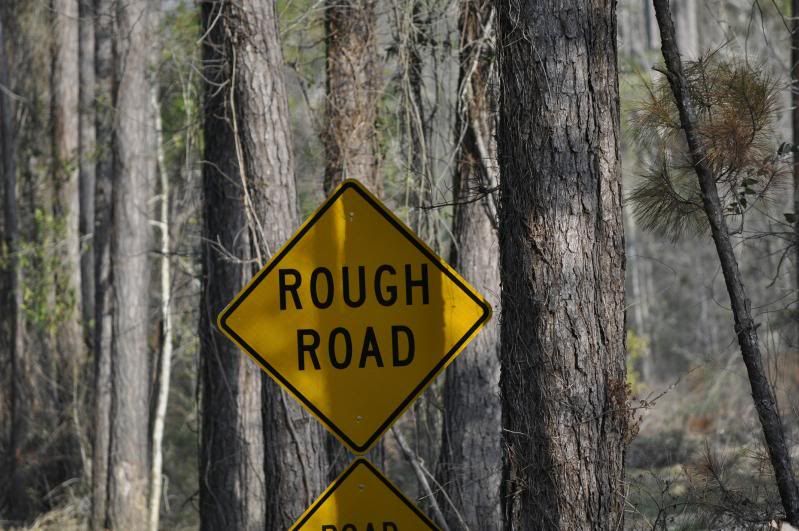 head on over to any one of the Tammany Trace Trailheads with your bike, skates, horse or feet. But remember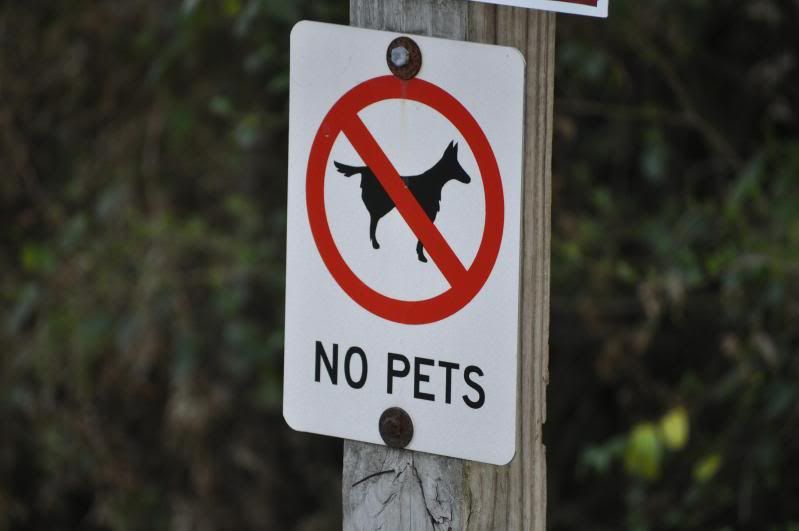 Your 4 legged friends aren't allowed.
"In the past five months, Gulf Coast residents have been treated to a number of decisions with direct impact on their lives. They weren't asked to give input at the time these decisions were made. They weren't asked how they thought it might affect their future. The decisions occurred above their heads and most times, without their knowledge, but they are the ones now paying the price. This post is the first of three parts having to do with these decisions. Part one will address British Petroleum's use of the dispersant, Corexit while two and three will be concerned with Bobby Jindal's sand berms and the federal government's response, including the amount of control ceded to British Petroleum. All three will address the issue of the courage necessary to change course in the Gulf, the importance of doing so and who will be affected. All three decisions to be looked at had to do with money and politics, and changing course now will affect the back accounts and political standing of the people in charge, but change must happen."
So begins a fascinating series of posts by Disenfranchised Citizen – a series I highly recommend to everyone living on the Gulf Coast and everyone concerned about the effect of the BP oilspill on our environment and the health of those living along the coast. The first post, Changing Course in the Gulf: Bad Lessons in Money and Politics Pt. 1 – BP and Corexit, discusses the perils of the use of the oil dispersant Corexit and the relationship between BP and Nalco Group, it's producers.
The second installment, Changing Course in the Gulf: Bad Lessons in Money and Politics Pt. 2 – Bobby Jindal, Sand Berms and the Shaw Group, outlines the folly of Gov Jindal's sand berm project, his dismissal of any scientific evidence contrary to the project and questions the real motivations behind constructing the berms.
I am eagerly awaiting the final post and I urge you all to go now and read this very intriguing series.
American Zombie also has a good piece up today, Buried in the Outdoor Section, questioning why there isn't more wide-spread reporting of an alleged thick layer of oil on the sea floor found by a group of scientists on a research vessel in the Gulf.
And, finally and heartbreakingly, we get the news of a huge fish kill reported in Plaquemines Parish "found in an area that has been impacted by the oil from the BP oil spill, the parish said." (Via Library Chronicles)
News of the oil catastrophe seems to be fading ever more quickly as the days pass but the effects on our environment and the health of our fellow citizens is only in the infancy stage, I fear. We cannot allow this atrocity to fade from our consiousness and, with bloggers like these three men , hopefully it won't .
Thanks to Carl Webb for passing this along:
The National Association of Free Clinics will be conducting a free medical clinic for the uninsured on Tuesday, August 31 and Wednesday, September 1. This will be held at the Ernest M. Morial Convention Center. The purpose is to provide medical services to the uninsured, as the metro region continues to struggle post-Katrina and with the ongoing oil spill crisis.

They are in urgent need of medical and non-medical volunteers to help
staff this 2-day clinic. They especially need physicians (internists, pediatricians and family practitioners), nurses and nurse practitioners. I am writing to ask if you or any of your friends would be available to help with this. You can get the details of the event, volunteer shift times, etc. and can sign up at http://www.freeclinics.us. You can also view a video on the recent free medical clinic that was held in Washington, DC, to get a better idea of the work this great team is doing across the country here.

Dr. Ralph Freidin and his wife from Boston, MA have been organizing and running these free clinics. Dr. Freiden is a straight ally of the LGBT community, and serves as a member of the Board of Governors of the Human Rights Campaign, on the Boston Steering Committee. He contacted the New Orleans HRC Steering Committee for help in reaching out to the New Orleans metro area LGBT community to get volunteers and help spread the word.

Please consider volunteering and spread the word to your friends. We need to get the word out about this clinic to all people in our area who do not have access to medical care. This clinic will provide diagnosis and treatment for individuals as well as referrals for follow-up care.

Please let me know if you intend to volunteer, because I will forward
your name and contact info. to Dr. Freidin. Thank you so much for your consideration.

Best regards,

Lili Alpaugh
HRC New Orleans Steering Committee
HRC Board of Governors

Lili.alpaugh@gmail.com